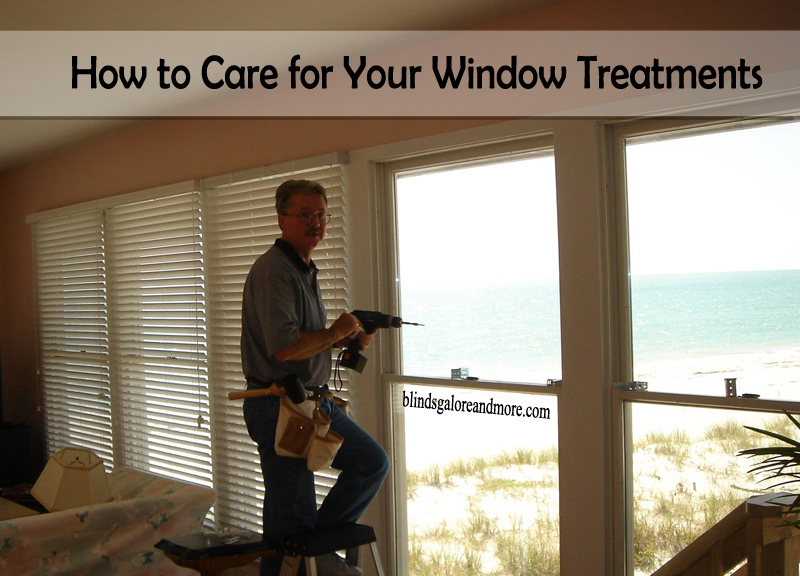 How to Care for Your Window Treatment
New window treatments…but how to care for them?  Not only do we need to clean them, we need to be sure we are using proper technique when opening and closing them to insure years of trouble free.  Listed below are some of the treatments available and how to care for them.
Faux Wood or Vinyl Products
To avoid scratches or damage to the surface, do not use abrasive or solvent based cleaners.  Avoid any ammonia based cleaners.  Using dryer sheets provide a great way to repel dust and static cling.
Fabric shades or Window Panels
Never use magnetic dusting mitts on light-dimming fabrics.  When cleaning the windows, be sure to spray the cleaner on the rag rather than the window to insure that none of the cleaning products gets on the fabric.
Horizontal blinds
When raising and lowering these blinds, they must be in the open position.  Use your hand to support the bottom rail as you raise and lower the blind to help take stress off the ropes.
Vertical Blinds
The vanes must be in full open position when traversing the blind to avoid misaligning the vanes.
Roller Shades
Roller shades may need to have the spring tightened after much use.  To do this, draw the shade down a little while it's in the brackets.  Take it out of the brackets, roll it up and then replace.  If the spring it too strong, take the shade down while it is fully rolled up.  Let it unwind a few revolutions and the replace.
Wood or Hybrid Products
These are easily dusted with a soft clean rag, dusting mitt or feather duster.  If you have a soft brush attachment with you vacuum, you may use it.
Solvents and scrubbing cleansers are not recommended.
Avoid high moisture areas.
As with the faux woods, when you clean the windows, spray the cleaner on the rag to insure that none of the cleaning product gets on the blinds.
Cloth Tapes
Different fabrics require different cleaning method. It's best to do a test in an inconspicuous area first. Most can be spot-cleaned with fabric cleaning products found at the grocery store. These typically do not discolor the tapes or leave a stain.   100% polyester can be spot cleaned with distilled water and a clean white cloth.  Mild detergent may also be used.  Just remember that spot cleaning can result in cleaner areas.  Never use water on Rayon or acetate tapes that are shiny or have a luster as it could result in water spots.  Fabric wipes are better.
Taking proper care of your window treatments will add years to the life of your investment.  For additional information about the care and cleaning of your new window treatments, check with the manufacturer of your product.  Many have websites and this information is readily available.